The Ford F150 has been the best-selling, full-size, light-duty pickup in America for four decades. Originally launched in 1948, the F150 is now on its 13th generation and is a very different vehicle to what it used to be. Today, it's available in several different trim styles, engine options, cab styles, and bed lengths – and what that also comes multiple F150 dimensions, sizes, and weights.
In this guide, I will take a closer look at the dimensions, weights and F150 sizes, including the factors that influence the truck's overall length and width, as well as its weight and overall hauling capacity.
F150 size & specs: introduction
When the Ford F150 first arrived on the scene, the F150 corresponded to the truck's payload capacity of 1,500 pounds. But over time, this has changed – even if the model number hasn't – up to 3,270 pounds.
If your F150 is properly souped-up, it can haul over 12,000 pounds (click here for 31 towing capacities). Want to know other specs and dimensions of today's Ford F150?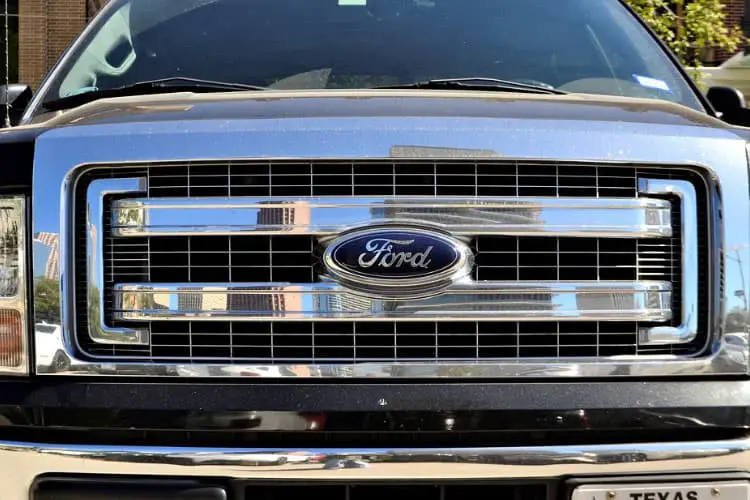 Why are some Ford F150s longer than others?
There are several different components that factor into the size of a truck, one being length. The length of a Ford F150 is contingent upon the trucks' cab size along with the bed length. Together, they will make up the majority of the truck length.
Before we get into determining exactly how long a Ford F150 is, let's dig a little deeper into the different options available that can affect the length.
There are a few choices for sizes in cab size and bed length, but another variant is trim level. There are different combinations to choose from, but all will play a role in the overall size and use of the Ford F150.
Cab dimensions
The cab of a truck, short for cabin, is where the magic happens. And by magic, I mean driving and day to day living of the dream!
All of the interior is behind the closed doors of an F150's cab. When we think of an F150 cab, just the interior comes to mind. But, for our measurement purposes, we'll consider the cab to be the front of the bumper to the end of the actual cab itself.
Ford has three sizing options for their cabs:
Regular/Standard Cab
Super/Extended Cab
Super Crew/Crew Cab
Each cab size is created to fit a drivers' specific needs, so before choosing a cab, it's important to determine exactly what you'll be using it for. Or, better yet, who you'll be using it for.
Not all cabs are created equal, especially when it comes to size and passenger comfort.
Regular or Standard Cab dimensions
This is the most basic cab option, which is commonly used for work trucks and other practical operations. There are two doors and one bench seat for the driver and passenger. The bench seat does allow for a third person to ride, but it's not meant for lengthy travel.
A regular cab is great for anyone that needs a lot of room in the truck bed, but not looking for anything fancy. It makes for an excellent work truck because of its lower body weight. The length of a regular cab is just over 121.
Super or Extended Cab dimensions
A Super Cab is just a little bit longer than a regular cab, hence the "extended" title. It measures 144.1" in length. There is an additional row of seating, which adds a back door. The Super Cab is technically a four-door model, as opposed to just the two doors on the regular cab.
The second seating row does seat up to five people, but again, not comfortably. It should also be noted that some car seats do not fit in the back seats, so if you're planning on putting one back there, you'll want to compare the specs of your own car seat first.
While the additional doors of the super cab do open, they're not full-sized doors. So, the extra space in the cabin isn't perfect for travel or road trips, but it can be used for short rides or, better yet, storage for anything that needs to stay covered and protected from weather.
Super Crew or Crew Cab dimensions
Anything with "super" at the beginning of its name will clearly be bigger and probably better than the previous edition. In this instance, the size of an F150 Super Crew Cab is definitely bigger than the two others, with a length of around 156", but whether or not it's better really depends on what you're going to use your truck for.
The capabilities of this truck are similar to the others, but it also comes with what might be considered luxury seating amongst truck models.
The cabin is more spacious, allowing passengers to sit a little more comfortably. Also, the extra space provides a touch more legroom.
Trim level
The various trim levels are ways that Ford has categorized different customizations that can be added to a truck.
The idea behind trim level packages is that they will make the truck better for whatever the driver uses it for. There are seven trim levels for the F150:
XL
XLT
Lariat
King Ranch
Raptor
Platinum
Limited
Some trim levels are better suited for hauling and towing, while others are focused on the driver and passengers' comfort. Trim level is another way to individualize the appearance of an F150, as well. Each of the seven trim levels has a different set of equipment and features.
While the trim level doesn't directly impact the Ford F150 size, it does affect the options for bed length and cab size, both of which will factor into the overall dimensions of a Ford F150.
So, let's briefly touch on all of the different styles within an F150, so that you can get a better idea of how this all fits together.
The XL Trim Level
This is considered a base model. The XL doesn't have any especially fancy features, but it does come with a rearview camera and hitch assist, both very handy for anyone driving a truck.
The XL trim level is perfect for an everyday work truck, with cloth seating in the cab, making for easy cleanup. While it doesn't have all of the bells and whistles that you might find on other models, it does have exactly what you need to get the job done and comes with bonus points for being an affordable option.
The XLT Trim Level
Picture an XL F150 with just a little more curb appeal. The XL package also comes with the option of an extended truck bed, which will obviously add to the length of the truck.
There are a few more features to this option that aren't standard on the XLT, including:
Carpeted Floor Mats
Chrome Two-Bar Style Bumpers
17-Inch Silver-Painted Aluminum Wheels
Remote Keyless Entry
Cruise Control
In addition to the standard features, there are also available options for enhancing engine power and hauling capabilities.
But these are things you'll have to add, and most likely won't affect the size of the truck body, unless it's something external, like the truck bed extender we already mentioned.
The Lariat Trim Level
This is the model that starts to really focus on the driver, as opposed to mostly just performance. Ford really upped their technology game with the Lariat and put a little more into offering comfort for both drivers and passengers.
The F150 didn't want to be left behind in a world of cars that really cater to the driver, so this option provides a better experience for the driver by offering:
Leather Upholstery
Sport and Towing Modes
10-Way Power Adjustable Heated and Ventilated Front Seats
Pro Trailer Backup Assist
Dual-Zone Electronic Temperature Control
Auto Start/Stop Technology
18-Inch Machined-Aluminum Wheels with Flash Gray Pockets
The King Ranch Trim Level
With this sub-model comes premium safety features, along with extra technology. Again, Ford is looking to up the ante with an appeal to driver comfort and accessibility.
The exterior of this truck has a western vibe, which is where the "King Ranch" name came from. It screams rugged work truck on the outside, but luxury on the inside with a heated steering wheel and leather upholstery.
But, don't think they'd neglect the functionality, because The King Ranch Trim level is always ready to put in work, with great towing functionality and optimized performance.
The Raptor Trim Level
If you take all of the performance capabilities of the XL and XLT and add a few features that are great for anyone that wants to have some off-road adventures, then you'll get the Raptor Trim Level features. Plus, there are some exterior characteristics that make this style easy to identify:
Rear Tow Hooks
Hill Descent Control
Military-Grade Aluminum Alloy Body
"FORD" Grille
17-Inch Cast Aluminum Wheels
High Strength Steel Frame
Inside the Raptor F150 you'll find other identifiable features that make it stand out against other trucks:
Upholstery Unique to The Raptor
Steering Wheel with Thumb Pads and Center Marker
Additional Technology and/or Audio Package
So basically, The Ford F150 Raptor looks good from the outside but's always ready for whatever action you might happen upon on any given day.
The Platinum Trim Level
While the King Ranch has its rugged western appeal, some might be wanting a more regal style of truck that says, "I'm here to work, but I want to look good while I do it."
The Platinum Trim Level is just that truck. It's got a little more uptown flavor that the other trim levels, but don't be fooled, it's equally as capable of towing boats and hauling junk. It might not look like it wants to get dirty, but it sure can.
While this style is mostly characterized by its appearance, with features such as:
Multi-Contour Leather Upholstery
20-Inch Polished Aluminum Wheels
Chrome Mirror Caps
A Platinum F150 also comes with several additional features that allow for more safe travels:
Inflatable Second-Row Safety Belts
Blind Spot Information System with Trailer Coverage
Cross-Traffic Alert
Trailer Sway Control
Trailer Brake Controller
Rain-Sensing Windshield Wipers
The Limited Trim Level
The supermodel of sub-models is this pickup, The Limited Ford F150. It has all the power that anyone could hope for in a truck, with the look and feel of a luxury vehicle. It's rugged, and fancy, all at the same time.
The Platinum F150 had all of the bragging rights until we added this one to the mix. Just a few of the features on this include:
Twin-Panel Moonroof
Lane-Keeping System
360-Degree Camera with Split-View Display
Door-Sill Scuff Plate with "Limited" Lettering
22-Inch Polished Aluminum Wheels
Adaptive Cruise Control
Stop and Go Pre-Collision Assist with Pedestrian Detection
F150 bed length and dimensions
This variant is a little more straight-forward than the other two factors in length. Ford has just three lengths to choose from for its F150 models:
But, it's not as simple as choosing a cab size, trim level, and then picking out a bed length.
Only certain cab sizes come with each bed length, which is why it's important to have an idea of all of your options before getting ready to sign on the dotted line, only to find out it won't be the right size for you.
So, to hopefully avoid that potentially sad situation, let's break down which cab sizes can go with each trim level and bed length.
Supershort
Clearly, this is the shortest length of the bed, measuring just 5.5 ft., or 67.1 inches long. However, for someone that needs right around 50 cubic ft. of hauling space in a truck bed, this is the perfect match. This length of the bed is only available in Super Crew F150s and Raptor Super Cabs.
Short
The short bed options measures in at 6.5 ft. and just over 60 cubic feet of bed space. This is one of the most common truck bed lengths you'll see on the road. It is also available in every cab size and trim level that Ford offers, so it's easy to find one that suits the driver's style, comfort level, and truck needs.
Long
A long bed truck is for anyone that needs serious hauling power. It has the most bed space in its 8 ft. of length, with 77.3 cubic ft. of room, to be exact. This bed length is only available with a regular cab, which does cut back on some of the size that could potentially be added with such a long bed.
How wide is a Ford F150?
While there's much less variance in this area, it is worth mentioning. The width of an F150 ranges anywhere from right under 80", to slightly over 86". Different customizations can affect this, but it really depends on too many factors to list.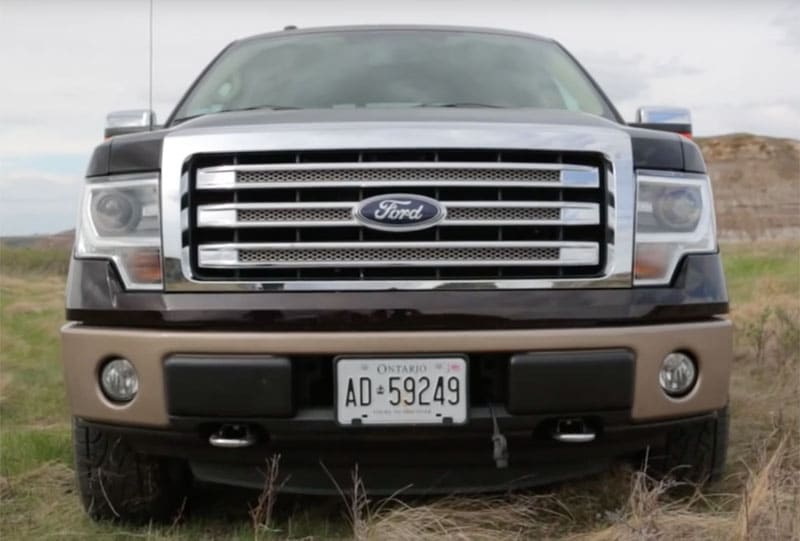 Just keep in mind that a standard F150 dimension will be within this range of width, without any modifications made by the owner. Any additions after purchase will have to be factored in later.
How tall is a Ford F150?
This is even less of a range, with just about three inches difference. A standard F150 is anywhere from 75.1" to 78.5" tall. Really, not a lot of difference here.
But, again, there's always room to make it taller. This would mostly depend on the wheels that the owner selects, whether they go with what's originally on the truck or they choose to put their own spin on things.
How much does a Ford F150 weigh?
This is a place where all of those details about options, cab sizes, and bed lengths come in. Every option will change the curb weight of a truck to some degree. Just extend the cab a little bit, and you are adding another 100 pounds or so.
For instance, I previously researched F150 weights and found that an F150 XL with 2WD, regular cab, and 6.5' bed weighs in at 4,069-pound. curb weight and gross vehicle weight rating (GVWR) of 6,100 pounds.
That same truck with an 8' bed has a curb weight of 4,164 and GVWR of 6,170.
Jump up to the Platinum 2WD Super Crew cab with 6.5" bed, and the weight jumps, too. You're talking a curb weight in excess of 4,600 pounds and GVWR of 6,800 pounds.
The hauling weight will vary depending upon the weight and size of your truck, as well as the gross axle rating, gross trailer weight, and more. You can get an idea by checking out Car and Driver or Kelly's Blue Book or ask the dealer directly.
Generally, though, expect a Ford F150 to be able to haul a standard 3,270 pounds – and it will go up from there, depending upon how your truck is equipped.
Is a Ford F150 too big?
Now that we know the basics for size, and potentially how big an F150 can be, all things considered.
But is it too big? This question is rather subjective; for example, how does it stack up when you compare an F150 vs F250 vs F350? But it's definitely something to think about when considering the right size truck for you.
So, depending on what you'll be doing with the truck, more than likely, it's not actually too big when you look at the Ford F150 specs, sizes, and dimensions subjectively.
The right pickup truck for the job
In most cases, people who choose trucks over regular cars have a very good reason for doing so:
Frequent need to haul
Towing capabilities
Driving on rugged terrain
Recreation
As noted, these aren't always the reasons for driving a truck, some people just like trucks. But these are a few of the most common reasons.
So, if you need a truck to fit your lifestyle because any of these are important to you, then no, the F150 is not too big when you consider the dimensions in this context.
Not to mention, there are so many different variables that you can apply when customizing your truck, so you can pretty much make it a size, spec, and dimensions that's just right for you.
Can a Ford F150 fit in the garage?
This is another subjective question, but if you're strongly considering an F150, thinking about where you'll park, it should absolutely be part of the conversation.
And, if you're asking these questions right now, then hopefully parking your truck won't be a challenge when you get it home.
Also, if you have a job that you'll be spending a lot of time, these factors should be considered for your parking at work, too.
Handy Hint: Ever wondered whether your pickup truck can fit in a car wash? Here's all you need to know and what to look out for.
The bottom line is; check out your Ford F150 dimensions and then measure up the garages you will be parking in, so you don't get any nasty surprises further down the line – here's more detail.
Standard garage
If you live in a home with a garage, it's more than likely that your garage is one of these more common sizes:
12' wide and 22' deep
14' wide and 22' deep
16' wide and 24' deep
14' wide and 24' deep
Length
Of course, as with all things, there are customizations that can be made to any home. At the maximum length that we mentioned, 251" (20.9'), the truck should be able to fit in the garage, lengthwise.
However, there are always additional factors to consider, such as what else might be in the garage. While this seems obvious, it's important to mention.
Things like this sometimes don't come up until the last minute, when you get home with your new truck and realize you have a shelf in your garage that won't allow you to pull all the way in.
Height
Again, we'll need to consider the maximum width that we mentioned, which is 86", or just over 7' tall. But, in most standard garages, the garage door opening is only 7'.
That means that a Ford F150 at its max height will not fit in a standard garage.
This is especially true if you have any kind of custom wheels that might add height to your car. Or, as many truck owners do, add a lift kit to the truck.
Even though some F150 heights are a little under 7', it's a close enough difference that a truck could still not fit. And trying to squeeze it into a tight opening will more than likely cause damage to the truck itself and the garage. Both are going to be costly fixes.
Width
There's a little more wiggle room with this variable since there are two different kinds of garage doors we usually see. Some garages have one large door. In this case, if the opening is tall enough, then you will be able to park your truck in the garage.
That doesn't necessarily mean anyone else will be able to fit their car in the garage too, but it's the truck we're worried about here.
However, if the garage has two doors, it's more than likely the opening is not large enough to park the truck, according to most standard garage sizes.  And again, trying to fit it in there is probably a bad idea.
Other places where your F150 size could be an issue
With a large vehicle like an F150, there are plenty of places you'll have to consider driving or parking before you go. There is a fair amount of planning ahead that has to be done a lot of times.
Or, you can always just be prepared to park and walk a little ways if you just want to keep that in the back of your mind.
Parking garages
There are many parking garages that have a height limit of 7'. Especially in places where space is a factor, such as big cities. To avoid scraping the roof of your truck when parking, make sure that you check the signage and the maximum height bar before parking.
To be safe, consider looking ahead and researching different places to park before making the drive. Online parking apps can really be your friend here.
Drive-thrus
Again, similar to parking garages, drive-thrus will have a bar that shows the max height for driving under. Most of these are truck friendly and allow at least 8'.
But, it's still important to keep in mind, just in case there is a lower one that sneaks up on you. This is another time that the roof of your truck could get scraped.
Also, there are many poles that drive-thrus put out to protect their menus and the building itself. These are potential hazards for trucks because they do narrow the amount of error. Truck drivers must be aware of these since trucks are wider than most vehicles.
Driving in the city
Naturally, parking is always a challenge, but also driving in big cities with more traffic can also be an issue. There are plenty of additional risk factors when driving in a more densely populated area with a bigger population:
Additional traffic from more vehicles
Narrower roads
Underground parking that's not usually accounted for
Pedestrians
Public transportation
More buildings
Helping your friends move
Okay, so this isn't exactly a time that you'll need to think about the size of your F150 dimensions per se, but just not that you will be asked to help almost everyone you know at some point in your truck's life.
Any time a friend moves, you'll most likely be asked to help in some way, shape, or form. If someone buys a piece of furniture or makes another purchase that might require delivery (such as a piano), the first thought is usually: "who do I know that has a truck and can pick this up for me?"
While this doesn't directly affect you or your F150's size and dimension, it's worth mentioning so you can keep in on the back burner and not be surprised when it happens. Because it will.
I always take advantage of my best friend's F150 and encourage everyone else to do the same. That's what it's for, right? Wink, wink.
More about Ford F150 dimensions
You might also like the following content about Ford F150 dimensions and sizes: