Any responsible truck owner should know how much their Ford F150 weighs. If you don't know what your F150 weighs then you can never be certain that the loads you are putting on it are going to be safe.
Every single truck on the roads has a curb weight. This tells you how much the truck weighs when it's idle with a tank of fuel, all operating fluids, and nothing in it, including no load, or people.
If you know what your Ford F150 curb weight is, then you can't properly calculate safe payloads, what you can tow, your GVWR, and gross vehicle weight, all of which I will explain a bit further down the page.
It's worth mentioning at this point, that the curb weight of your F150 today could be different to what it is when it first rolled off the production line. That's because if you have made any modifications, custom jobs, or adds on to the truck, the curb weight will now be different to what it was previously.
But you can get an idea on your Ford F150 weight by looking at the examples I have found below by looking at truck specs dating back a number of years. 
How much does a Ford F150 weigh?
Ford F150 Curb Weight Examples
2010 F150 4.6L 2V 4×2– 4,693 pounds
2010 F150 4.6L 2V 4×4– 4,951 pounds
2010 F150 5.4L 4×4– 5,083 pounds
2010 F150 SVT Raptor – 2,869 pounds
2010 F150 4WD SuperCab 145″ FX4– 5,345 pounds
2011 F150 XL 2WD Regular Cab – 4,795 pounds
2011 F150 King Ranch 4WD Crew Cab – 5,577 pounds
2011 F150 Lariat 2WD Crew Cab – 5,245 pounds
2011 F150 XLT EcoBoost SuperCrew – 5,287 pounds
2012 F150 XL 2WD Regular Cab – 4,764 pounds
2012 F150 Platinum 4WD Crew Cab – 5,586 pounds
2012 F150 4WD SuperCab 145″ FX4– 5,461 pounds
2013 F150 2WD Regular Cab– 4,764 pounds
2013 F150 SVT Raptor 4WD Extended Cab– 6,004 pounds
2013 F150 4WD SuperCab 145″ FX4– 5,461 pounds
2014 F150 FX4 FWD Extended Cab– 5,461 pounds
2014 F150 Lariat 4WD Crew Cab– 5,716 pounds
2015 F150 SuperCrew Lariat– 4,942 pounds
2015 F150 Platinum 4×4 Super Crew Long Bed– 2,236 pounds
2016 F150 2.7L EcoBoost V6 4×4– 4,319 pounds
2016 F150 5.0L Ti-VCT V8 4×4– 4,516 pounds
2017 F150 XLT 2WD Regular Cab – 4,100 pounds
2017 F150 XLT 4WD Crew Cab – 4,780 pounds
2018 F150 3.3L Ti-VCT V6– 4,069 pounds
2018 F150 3.5L EcoBoost V6– 4,653 pounds 
Please note, I have only gone back as far as 2010 and have only taken a few example models from each year.
Do not take these Ford F150 truck weight examples as gospel as your particular model could be very different.
I would always recommend that you take your own truck to a weighing station in order to get the most accurate curb or gross vehicle weight for a Ford F150. 
What is the Gross Vehicle Weight of a Ford F150?
The gross vehicle weight or mass (GVM) is different to curb weight, and you need to know this if you're going to be driving your truck safely.
The gross vehicle weight of your F150 (or curb weight) could be different each time that you drive it.
Why?
Because it's the weight of the truck once everything is loaded on, and that includes a cargo, the driver, passengers, fuel and fluids – PLUS how much the actual truck weighs.
But why is gross vehicle weight important to know?
Your Ford F150 is only designed to carry a certain payload. When manufacturers build trucks, they test them to see what the safest total load weight will be.
The figure they then release is called the GVWR (gross vehicle weight rating) and the GVWR of your particular F150 must never be exceeded.
If you know how much your truck weighs in total with everything on it, then that's your gross vehicle weight. Your gross vehicle weight must not be higher than the GVWR.
If you do exceed the GVWR with your Ford F150's gross vehicle weight then you could damage the truck or find that your brakes take longer to stop, or even fail completely.
What is the GVWR of a Ford F150?
It will differ from truck to truck.
You can find your GVWR on a blue sticker in the driver's side of the truck.
What the Different Measurements all Mean
Here are some graphics I have put together to help explain the different terminology involved, with some links into a deeper explanation.
These will tell you the differences between GVWR, GCWR, GVM, payload capacity, towing capacity, curb weights and how that all relates to what the gross vehicle weight of a Ford F150 is.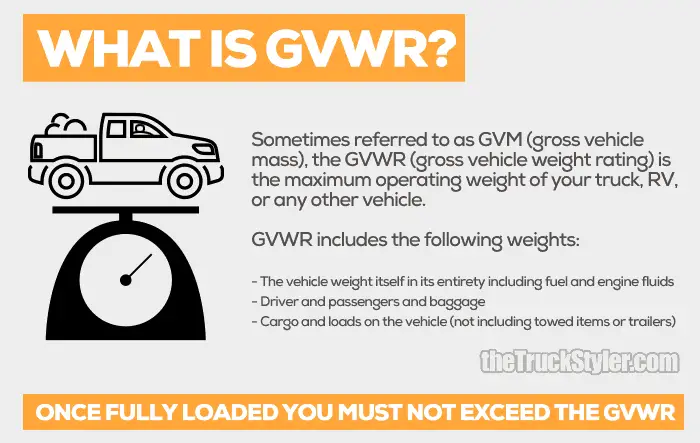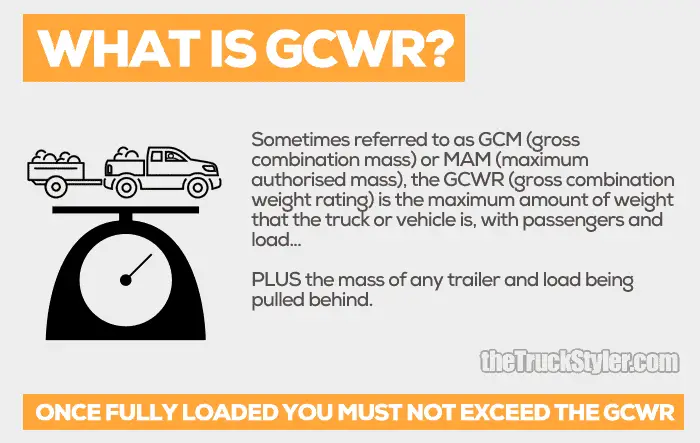 Ford F150 Weight Reductions from 2017
The Ford F150 is renowned as being the most popular pickup truck in the United States, with the Ford F-Series first being produced in 1948, going on to become America's best-selling pick up since 1977.
In 2018 though, we saw some massive changes happening with the F150 range, with some extensive re-modelling which actually led to them being reduced in weight.
As a result, the 2018 F150 is much lighter than previous models, some of which I have listed further up the page with my list of Ford F150 weight examples.
How this was achieved was due to a change in the manufacturing process and some of the materials that are used in the construction of the truck.
Ford have started to use high-strength, military-grade, aluminum alloy, which has meant they were able to shed up to 700 pounds off the Ford F150 gross weight.
They have also used a boxed frame under the truck which is up to 60 pounds lighter than the models released pre-2017.
But here's the thing; these gross and curb weight reductions haven't impacted at all on how strong the F150 is and has had zero impact on the weight it can carry and tow.
Why Your F150 Curb Weight is Important
If you don't know how much your Ford F150 weighs, then you could potentially risk damage to the truck and could even put yourself and other drivers in danger.
The brakes on an F150 are very, very good, but if you're overloaded with cargo, and exceeding the GCWR because you didn't know your weight then they could fail.
Imagine the following scenario.
You buy a used truck and look up the curb weight on the Internet for it and see that it's 4,500 pounds.

But what you failed to take into account was the modifications that the previous owner had made, adding an extra 250 pounds in weight.

That means that you are 250 pounds closer to the GVWR of your Ford F150 without realizing it, and you could be exceeding the GVWR.

The potential for damage includes chassis and frame, the suspension, chassis, and tires.

If you're lucky, it might be ok, but it could lead to wear and tear, or even crack your truck's frame or overheat the engine.

The worst scenario would be you get the truck out on the road, and you can't stop in time and cause an accident.
Should You Measure Your F150 Truck Weight Accurately?
100% yes.
The measurements that are at the top of this page are simply a guide, and you should not rely on them for accuracy.
Your curb and gross weights are something that you should independently measure, rather than relying on information you find online.
There's a very good reason for this, because almost every single F150 on the road will weigh different, no matter your spec says.
Why?
It's because many of them will have had modifications, customization, and add-ons.
If yours is a new truck, then the spec on the Ford website or in the manual should be an accurate representation, but if you have had modifications, go get it weighed now.
There should be a garage near you with weighing scales, or there are weighing stations that you can use. Here's a website where you enter in a zip code and find a weighing station near you.
Before you get weighed up, ensure that you have as a close to full a tank of fuel as possible, and all operating fluids have been topped up.
Final Thoughts
If you have found this guide useful then please do share it socially, and if you use any of the data on your own website I would appreciate you linking back to me as way of a credit.
You should always know what your Ford F150 weighs. By doing so you can drive safer and more responsibly.