Moving an upright piano in a pickup truck is a royal pain in the butt. I've done this before and have the scars to prove it! In the last two years, I've moved my pianist brother twice. The first time we fouled this up, but the second apartment moved we completely nailed it!
Hopefully you will only ever have to move a piano once in a pickup truck, but it's essential you do it right, as getting it wrong can make for a very expensive mistake. There are tools and methods I use, and you can read how to do it perfectly using the step by step process below.
Here's how you do it.
How to move a piano in a pickup truck
Pianos are heavy and preposterously clumsy to maneuver. Using professional lifting straps, furniture pads, dollies, secure straps, and planning out the move in detail all help you smoothly maneuver your piano into places that you wouldn't expect.
Before we go on, I should warn you that moving a piano in a pickup truck is not the smartest thing that you could ever do – especially if the piano is very expensive and someone actually wants to be able to play it again.
If we are simply talking about a choice decorative piece or money means absolutely nothing to you, by all means, consider how fun it will be to obtain that life experience for your bucket list. But, on the serious side, moving a piano is not that much fun.
You could get seriously injured or even killed by fooling around with one. A piano has thousands of intricate parts and can weigh anywhere from 300 to 1,000 pounds.
When you throw in the decorative wood embellishments, mirror finish, and the awkwardness of unbalanced weight distribution, you can see why even professional furniture movers will let the specialists handle it.
Nevertheless, if you are prepared to attempt the move, it is really just a question of mind over matter… but using safe and correct techniques.
If you don't want to do this, you can employ professional piano movers who will have high-end moving dollies, furniture pads, straps, and special cases. They will load your pianos into their moving truck with a low inclined plane to make maneuvers easier.
They also have lots of experience and know the tricks of the trade. Because the learning curve for moving a piano is steep, not everyone should do it without professional assistance.
1: Map out the route
Before you decide to move that piano by yourself, you'll need to take measurements of every step involved.
This is especially true if you have no idea how they got the piano into your home before you moved in there.
Plotting the course starts with measuring the dimensions of the piano and then every hallway and doorway that it must pass through. The professional piano movers always do this first before they will even give you a quote.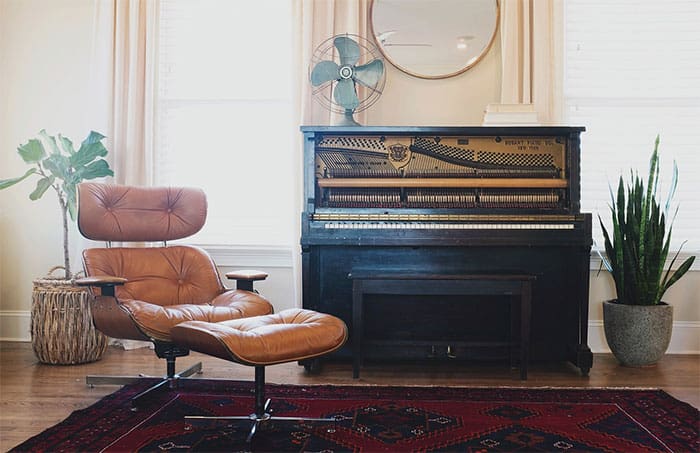 If your piano is too big for any of these passages, you may have to hire someone to knock out a wall or drop it out of the balcony.
Because pianos are so heavy and difficult to move, you can never be sure of whether the previous owners of the building did some renovations after the piano arrived.
Sometimes it makes sense to sell the house with the piano inside of it if moving it is more trouble than it is worth.
2: Closing or removing the lid
Before you can move that piano, you'll have to prepare it for the ship trip.
The first leg of this adventure begins with closing the lid and sealing it up as tightly as possible. There is nothing worse than a lid swinging open in your face when you are on the go and in that tight awkward corner with nowhere to run.
If the lid doesn't lock, you'll have to tape it down or strap it down.
If it is a large lid of a baby grand piano, you will have to remove it and wrap it individually in furniture blankets for shipment. The lid is usually hinged into place with screws that are easy to locate.
3: Wrap the piano in furniture blankets
When you wrap the piano in furniture blankets, you don't have to worry about marring the mirror surface. You can also improvise by using sturdy bed quilts.
Any thick padded material essentially serves the same purpose of insulating and protecting the delicate surfaces from scratching and bruising.
However, a thick padded furniture blanket specially designed for moving offers the most protection and is easier to piece onto a piano.
You can rent both furniture pads and dollies from moving supply stores.
4: Place the piano on a piano board
A piano board will have slots for you to attach the piano with buckle straps that can be tightened around it. The trick with placing a piano on a piano board is pure muscle.
You will need to coordinate your partners to lift the piano straight up like dead weight without putting any pressure on the legs. The legs are generally decorative and will snap under any excess pressure in the moving process.
If possible, you should remove the legs. Store the screws from each component in separate baggies to separate them.
If you have a baby grand piano, you will also have to remove the lyre and metal plate assembly.
This needs to be wrapped in separate furniture blankets and transported. The casters should also be removed if you have a piano with no legs.
The casters are decorative in nature and should not be used to move the piano.
5: Lift the piano board onto the dolly
Once you have the piano secured onto the piano board with furniture blankets and buckle straps, simply lift it and center it upon a sturdy 4-wheel dolly.
The type of flexible dollies with all-terrain pneumatic wheels that are used to move large musical equipment may be the best kind to use.
Some of them have cables that will let you lock and unlock components to turn the dolly into a cart if needed.
6: Use a spotter along the route
Having someone who is not lifting anything to direct and look for any obstructions along the route will streamline the process and make it a whole lot safer.
Let the spotter look out for troublesome areas along route spots to protect the piano from hard corners and those sticky situations that make your brain boil.
The spotter should spend most of their time plotting the path in front of the piano.
7: Plywood ramps or lifting straps
You may find that it is easier to roll down sets of stairs if you have a plywood ramp set-up at each stairwell.
If you have to take the dolly over un-ramped steps, this would eliminate the mechanical advantage that it provides.
In a case like this, it may be better to simply use moving straps on the piano board that attach to your forearms if the weight is not overbearing.
You can easily lift 700 pounds of weight between a team of two people from the mechanical advantage found when using high-quality lifting straps.
8: Load the piano into your pickup truck
This step involves knowing how to load the piano into a pickup truck.
You will want to create a plywood ramp if you are using the dolly method to load it onto the pickup truck.
If you are carrying it with the lifting straps on your forearms, you should use a set of mini stairs for one of the lifters to progress into the truck bed.
Laying down plenty of padding in the truck bed and strapping the piano board in securely by using the tie downs will prevent the dead weight from kicking down your tailgate or falling over.
The lyre, legs, and any other applicable components can usually fit in the cab of the truck.
The guys in the video below don't use a plywood ramp, but do a great job just with a dolly.
Conclusion
And there you have it; how to move a piano in a pickup truck.
Once you've done it, you can brag for the rest of your life about how you deftly moved that baby grand piano from Las Vegas to Chicago in the back of a pickup truck.
People will marvel at your legendary strength, skill, and versatility. You will be considered a jack of all trades in your neighborhood and sought after by hordes of less capable people whenever important work needs to be carried out correctly.
OK, so maybe not. But regardless, you will have got the job done.
And… can start tinkling the ivories yet again.
PS: If you are in the process of moving home, you might also be interested in my illustrated guide to moving a refrigerator using a pickup truck. You might also be interested in ways in which you can make money with your pickup when helping people to move large items.