If you're in the market to buy a Ford F150, one of the most pressing concerns will be whether it can fit in your parking garage. I am going to assume you've not got the time or inclination to go measure the garage, so here's an overview of whether an F150 will fit.
Will a f150 fit in my garage? Yes, a Ford F150 can fit in a garage, but it will depend on the year, model, and trim of the truck, plus the dimensions of your parking garage. However, trucks like F150s do need extra space, particularly if you have a Super Cab model.
A parking garage might have enough room to fit a regular car but a truck like a Ford F150 will need more space. It's not just the width and length you need to consider when parking an F150 in a garage, but also the height clearance. 
I'd recommend a garage height of more than 7 feet as compared to normal cars with a height of just 5 feet. The size of an F150 will increases horizontally and vertically if you've installed aftermarket accessories such as extended bumpers or lamps up top. 
Will a F150 fit in a parking garage?
Most Ford F150s will be able to fit inside regular parking garages. A standard garage size is approximately 22 feet deep and 12 feet wide. This is more than enough for a truck like an F150 to fit into. 
Most F150s can also fit in garages with common sizes of 14 x 22, 16 x 24, and 14 x 24. But you need to take the height factor into account.  Sometimes the door makes it difficult for an F150 to pass through it. Also think about the measurements of the garage door / shutter when they open and close so your truck won't get stuck.
The dimensions of a Ford F150
The most common size of an F150 is about 19.5 feet long depending on the size of the truck bed. It is about 7 feet wide and has a height of 6.5 feet. Moreover, the difference between front and back wheels is about 12.5 feet.
With the Regular Cab, it will span to 209.1 inches or 227.7 inches with the cargo box (a.k.a., truck bed) you select. The SuperCab provides a length of 231.7 inches or 250.3 inches again, depending on the truck bed. The SuperCrew starts out at the same measurement of 231.7 inches but can extend to 243.5 inches
Handy Hint: Click here for a guide to Ford F150 dimensions including the reasons why are some are bigger than others. 
F150 types and their sizes
F-150 Ford trucks have three different Cab Styles which include a SuperCrew or Crew Cab, SuperCab or Extended Can, and then a Standard Cab also known as Regular Cab.
The SuperCab has less room in the backseat for passengers than the Crew Cab. In SuperCrew the interior and the body both stretch more. But the dimensions of the front seats are unaltered, the legroom of 43.6 inches and headroom of 40.4 inches are changed in the back row. The doors are the most distinguishing feature between these two models.
One could instantly notice the difference between the SuperCab and SuperCrew by the doors and their size. The SuperCrew has four full-sized doors while the SuperCab has two small doors on the rear side. 
SuperCrew doors are open in the same direction but in SuperCab rear ones are open backward. SuperCrew has different names such as Crew Cab, CrewMax, and Quad Cab. These trucks have room for a family with four to five adults because of the big doors and front-hinged.
Different bed sizes in F-150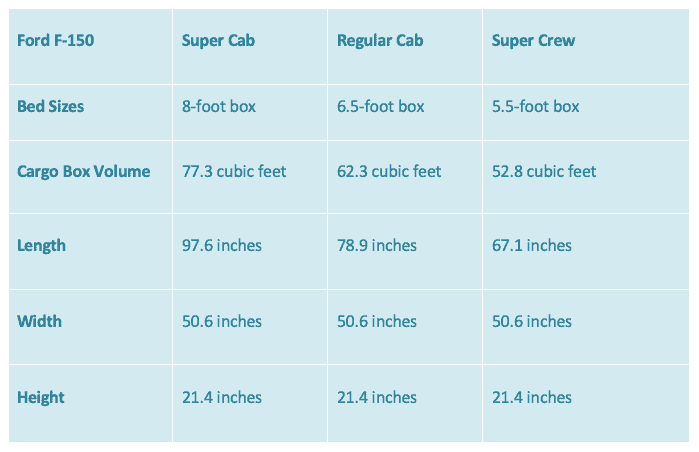 Related questions 
What is the height of Ford F-150 in feet?
With an average height of 6.4 feet across the 2019 Ford F-150 lineup, the two lowest models are the base 2WD XL at 6.3 and the Raptor at 6.6 feet. If your garage is urban keep these digits in mind since they are the indicator of the maximum height allowed at the entrance. Also, make the size of the door of your garage the same ratio as your truck required.
What bed or cabin is attached to the 2022 F-150?
With the Ford the Ford F-150 2022, you can select your preferred bed and cabin combination.
It is ideal for those who don't need a lot of passenger space, desire a longer bed and need a truck that can easily fit into tight spaces. Due to its ability to be equipped with either a built-in bed or a long extended bed, the Regular Cab will fit in tighter spaces while maintaining a length of 227.7 inches.
The SuperCab is a great choice if you want two rows of seating and a long bed. A 250.3-inch bed can be attached to this cabin set up with a regular or long bed, the largest possible setting for this truck. If you need to store basic items on a regular or short bed, you can choose one of these two-bed options. If you need more passenger space, you can configure the SuperCrew with one of these two choices.
How much room is in a Ford F150?
Aside from picking the box you prefer, you may also select one of three different Cab configuration- Regular Cabs have seating for three, SuperCabs and SuperCrew have two rows of seating for six people.
You'll have plenty of space up front in each because both offer 43.9 inches of legroom and 40.8 inches of headroom. The real difference lies in the back row, where there is less space.
All but the SuperCab and SuperCrew come with rear seats those measures are as follows:

The SuperCrew increase the amount of legroom of your back seat for passengers to enjoy, which is ideal for heightened people.
How deep should a garage be for trucks?
The best way to determine if your garage can handle the F-150 is to simply measure your garage with a tape measure. You will want to make sure that there are a few extra inches around the vehicle. Now build the interior of the garage with these measurements and your truck is good to go. 
 There are three different cab options to choose from F-159 which includes regular cab, SuperCab, and SuperCrew cab. The regular cab F-150 has the shortest length to fit in a regular garage. 
What are the size ranges of different F150 trucks?
The length of the 2019-22 F-150 spans from 17.4 feet to a massive 20.9 feet, which may be extended further as you customize it. 
The XL and XLT two-door variants with the Regular Cab are on the smaller end of the spectrum. They range in length from 209.3 inches (17.4 feet) for a 6.5-foot bed to 227.9 inches (19 feet) for an eight-foot bed. In general, both the SuperCab and the SuperCrew vehicles with the 6.5-foot bed are 231.9 inches (19.3 feet) long, whereas SuperCrew models with the 6.5-foot bed are 243.7 inches (20.3 feet) long.
The SuperCab with the eight-foot bed is the largest variant, measuring 250.5 inches long (20.9 feet). The SuperCab Raptor model is 220.0 inches long (18.3 feet) and the SuperCrew is 231.9 inches long (19.3 feet).
Conclusion
Ford F150s come in different lengths, and parking garages come in different sizes, so unless you go check with a tape measure, you will never know for certain.
You might also like…
Image of a parking garages for a Ford F150 in header via https://pixabay.com/photos/garages-garage-doors-parking-spaces-4714943/