Knowing how much your Ford F250 can tow and pull is totally essential if you are going to be using your truck for work purposes, or even when helping out a friend and moving to a new house.
If you get it wrong and overload your truck then you could end up doing some irreparable damage or even fail to stop properly – yes, it can be that dangerous.
In short though, here's a top-line answer on how much weight the Ford F250 can tow or pull, based on the recent 2018 model release.
The latest 2018 Ford F250 have two different methods of towing. That means it can tow up to 34,000 pounds (15,422 kg) when gooseneck towing (fifth wheel), and 21,000 pounds (9,525 kg) when pulling and towing with a conventional hitch.
What is the Towing Capacity of a Ford F250?
Now you might not own a 2018 model, so what I did was look at historical data to see what the towing and payload capacities of previous standard Ford F250 models were.
You can see those listed below where I display data when using conventional hitches and gooseneck towing in brackets.
Ford F250 2018 Towing Capacity– 21,000 lbs / 9,525 kg (34,000 lbs gooseneck)
Ford F250 2017 Towing Capacity– 21,000 lbs / 9,525 kg (32,500 lbs gooseneck)
Ford F250 2016 Towing Capacity– 14,000 lbs / 6,350 kg (16,600 lbs gooseneck)
The data above is a random selection of different models from the years 2016, 2017, and 2018 so how much your Ford F250 can pull could differ depending on exact model type.
Handy Hint: You can find out more about what gooseneck and fifth wheel towing means further down this article. 
To get accurate towing weight capacities for your particular model, I recommend consulting your user manual, the Ford website, or by contacting your Ford dealer.
For example, let's take a closer look at the 2017 Ford F250 to see how the five different models can vary in towing and pulling capacity.
2017 Ford F250 Towing Capacity
This is a classic scenario where towing and pulling weights can change depending on which exact model you have from the 2017 range.
The 2017 Ford F250 is a powerful beast which can help make light work of heavy loads, in particular the Super Duty models.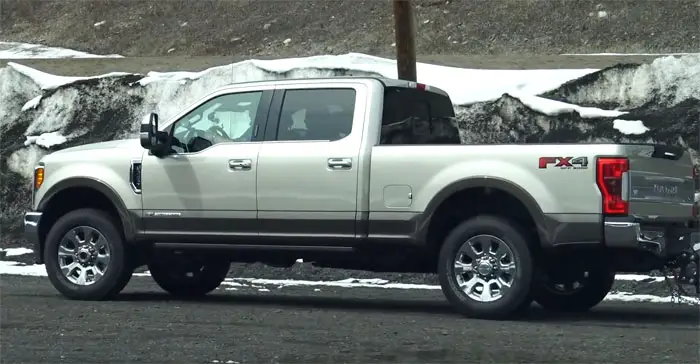 Let's say you want to pull a pontoon boat, tow a trailer with a load of garden debris in it, or are looking to move to a new house – it should be just the ticket.
But you still need to know just how much weight you can pull behind it safely.
Handy Hint: See what the average curb weight of a Ford F250 is in this weight guide.
It's important to understand that pulling capacities will differ depending on which trim and model you own.
And the 2017 F250 is no different with 5 models available including XL, XLT, Lariat, King Ranch, and Platinum. You then have the consideration of differing cab styles such as the Regular Cab, Super Cab, and Crew Cab versions.
Then to further complicate matters, you have different engine options such as a 6.2-liter gasoline V8 engine and a 6.7-liter Power Stroke Turbo Diesel V8 engine – then either a 4×4 or 4×2 version.
Complicated isn't it?
So how much can the 2017 Ford F250 pull safely? Here are some guidelines:
Regular Cab gasoline model – 13,300 pounds (3.73 axle ratio)
Regular Cab gasoline model – 14,000 pounds (4.30 axle ratio)
4×4 Regular Cab gasoline model – 12,900 pounds (3.73 axle ratio)
4×4 Regular Cab gasoline model – 15,000 pounds (4.30 axle ratio)
Crew Cab gasoline or diesel model– up to 15,000 pounds
As you can see, there are some subtle differences at play here.
But the bottom line is this; no matter which version of the Ford F250 you own, you have a heck of a lot of towing capacity for your money.
What is the GCWR of a Ford F250?
You will no doubt have heard a lot about GCWR and GVWR and how that relates to pulling weight power.
It's a confusing topic, so I've put together a handy guide on GVWR versus GCWR explaining things very simply so you know what the differences are.
GCWR Max. Limit = (Total Vehicle Weight + Cargo + Driver + Passengers) + (Total Trailer Weight + Cargo)
In the topic of towing capacity, the most important measurement you will need to know is what the GCWR (gross combination weight rating) is.
This is the maximum weight you truck should be (including vehicle weight), not just when fully loaded, but also the mass of whatever is being towed including the trailer weight.
As an example, let's take a closer look at the 2016 Ford F250 GCWR rating: the maximum GCWR rating is 40,400 pounds on the 4×4 DRW model.
In most 2017 SRW models the GCWR will range between 19,200 pounds up to 22,200 pounds.
It's critical for you to know the load and towing capacities of your Ford F250 truck. Whilst I've tried to publish as much information as possible in this guide, there are so many variants on the models I recommend you contact your dealer or examine your pickup truck's spec.
Fifth Wheel vs Gooseneck Hitch Towing
At the top of this guide I spoke about gooseneck and fifth wheel towing capacities. Before I bought my own truck, I had no idea what this meant, and what the differences were.
In very simple terms, a gooseneck trailer connects to a ball hitch which is located in your truck's bed.
Fifth wheel trailers differ in how they are connected, as they will attach to the F250 using a hinged plate hitch.
In terms of pulling, gooseneck trailers will offer more stability, and therefore the towing capacity can be increased.
Handy Hint: For more information and detail take a look at this excellent explainer on the Featherlite Trailers website. They also sell very good cargo trailers so check them out.
Conclusion
Never take more weight than your truck can handle.
If you know the towing capacity and how much your Ford F250 can pull, then don't exceed that. If you do, you don't just put your truck at risk of damage but could also be a danger on the roads as you're stopping distances will dramatically reduce – your brakes could even fail.
PS: You might also like my guide to how much a Ford F150 can tow.