Truck bed lighting can be added for two main reasons, either as a functional or decorative modification. In this guide I wanted to highlight some of the best truck bed lighting ideas that I have found online, and also information on how you can replicate them in your own truck.
Handy Hint: All of the ideas that you see here can be done yourself with the recommended truck bed lighting kits that I recommend elsewhere on the Truck Styler website.
Idea 1: Neon Underglow Effect
In this idea, the owner has installed an awesome neon underglow with LED lights under the bed rails. They are connected up off a fuse block on the battery and give a really cool look to the bed.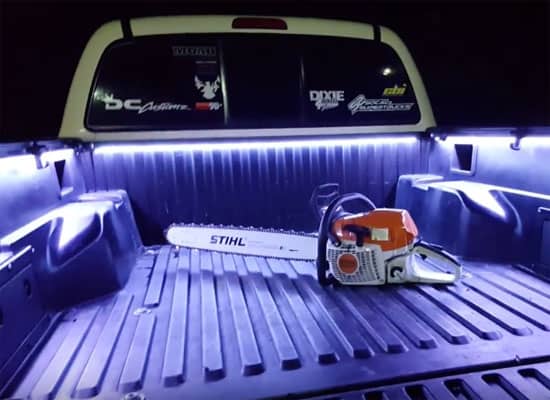 Most kits are relatively simple to install and will take around 3 hours to fit, so if you do like any of the truck bed lighting ideas in this guide give yourself an afternoon to do it yourself.
Idea 2: The Best Aftermarket Kit
This image is via the Robin Electronics website who sell one of the best aftermarket kits in the world, which is incredibly close to being of OEM standard. It's one of the most popular kits you can buy, and it comes 100% recommended if you want to light up your bed and don't want to scrimp on quality when modifying your truck.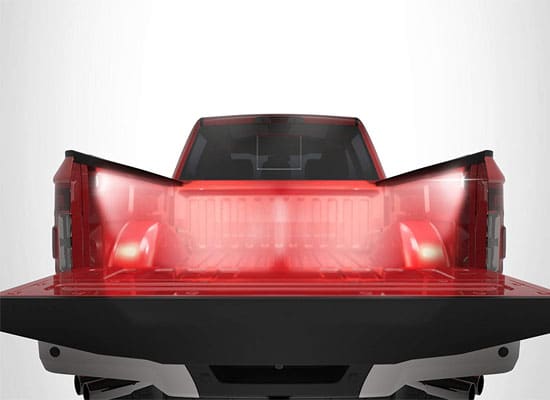 It can project a load of different colors too, not just a boring old white. You can find out more about it and where to buy in this guide.
Idea 3: Adding Different Colors
This lighting idea is achieved if you choose the LinkStyle kit which I have reviewed in my LED bed light kit guide. The LinkStyle package is one of the better RGB products on the market giving you access to a range of colors, not just this purple.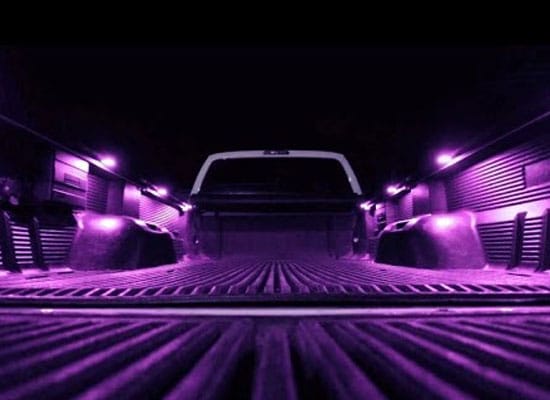 In fact, you could light up your ride with any color from the rainbow with just a few button presses on the handy remote control.
Idea 4: Wired Pods that Aren't Expensive
You don't necessarily have to fit strips into the bed, but instead could opt for a set of pods that run on wired connections. This idea shows the Xprite bed lighting kit and you can view the latest prices by clicking here.
Of all the ideas, this is the best budget and cheap option but doesn't offer as much light coverage as some of the previous images I have shown above.
Idea 5: Sound Activated Lighting
The photo here doesn't do this idea justice, as it's a music-activated lighting kit that when set up properly can pulse in time to your sound system's beats.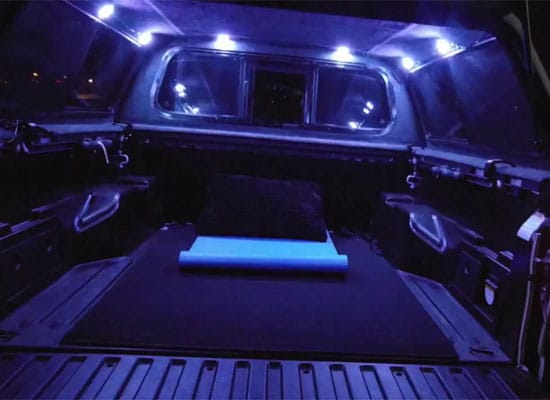 In fact, to get a better idea on how it works and looks, take a look at this video below where the user has installed this system into his 2016 Toyota Tacoma.
Idea 6: Transform a Classic Truck Bed
It's not just newer trucks that can benefit from some awesome LED lighting, as this photo below shows. With a little work you could transform your truck into something so much more interesting.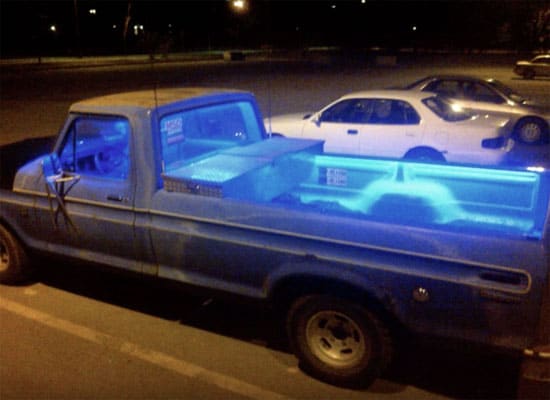 It's just a shame that as much care hasn't been taken over the exterior bodywork of this truck as it has the internal lighting, but there you go!
Idea 7: Beautiful Bed Rails Like Lightsabers
This is stunning. Actually, scratch that, it's beautiful and shows Dinjee Glo Rails on the truck bed rail. This can be mounted on virtually any rail and remind me quite a bit of a lightsaber from the Star Wars movies.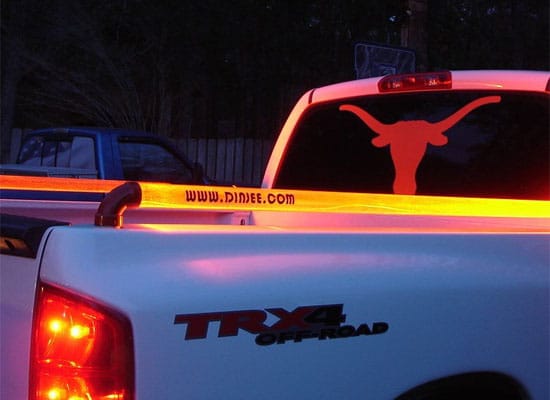 Before you decide to buy these lights please do check with your local state laws as to legality. I've put together some guidance on what you need to know about truck lighting.
Idea 8: Light Up Your Toolbox
Adding lights to the bed or Tonneau cover is one thing, but why stop there? If you use your truck for work and have to perform tasks at night, then how about lighting up the toolbox too?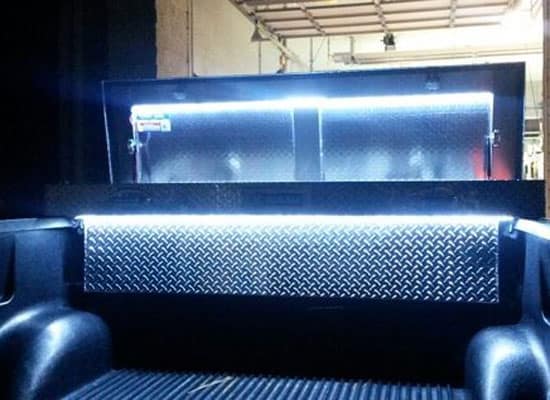 That's exactly what's happening here with LED strip lights added to the toolbox which are then activated by a pressure switch with one quick touch.
Idea 9: Flooded Light for the Night Time Worker
This idea comes from the heavyhaulertrailers.com website and is designed to fit under the lip of the truck's bed rails providing a load of light, and apparently no glare.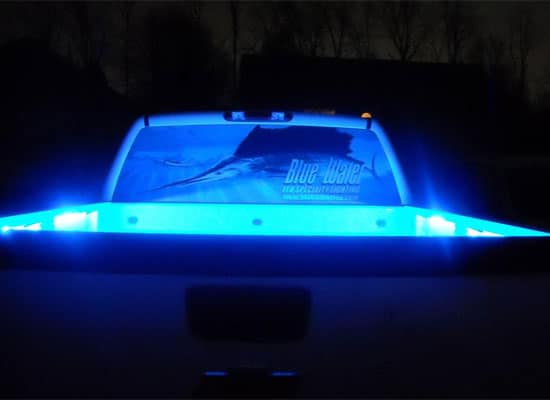 Ideal for those that use their truck for commercial purposes, you won't ever be stuck again trying to find your tools and equipment in the dark.
Idea 10: Small Spotlight Pods
This kit is simple to install, offers decent light, and comes at a good price but rather than a strip, is constructed with individual spotlight pods that you can arrange to suit your own configuration.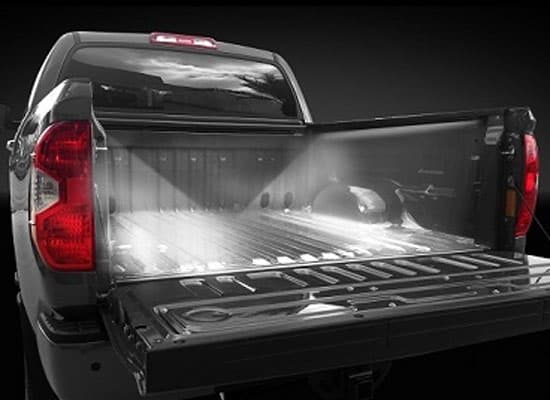 It only comes in white though, so is more of a functional solution than a decorative modification.
Idea 11: The Do It Yourself Option
Whilst all bed lights will need to be fitted yourself (unless you pay an auto guy to do it) you can actually build your own if you buy some LED strip lighting, wire, fuses, and other components.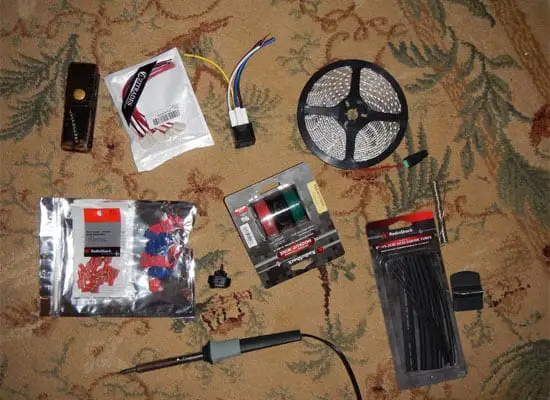 Having said that, by the time you've constructed your own set-up you might have well as spent less than $60 dollars and bought something fit for purpose. You can see some of those recommendations by clicking here.
Idea 12: Make Do with the OEM Solution
You're looking for the best truck bed lighting ideas, and I get that, because most trucks don't actually come with very good lights to illuminate the cargo in your bed.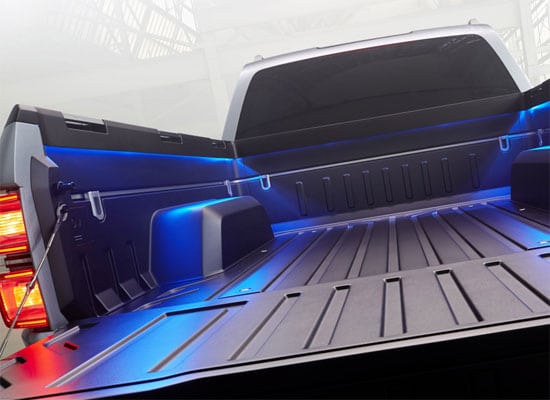 But, more and more manufacturers are now releasing new trucks which have really good bed lights, none more so than the example shown here which was unveiled as part of the Ford Atlas concept truck launch in 2013. Expect to see more like this in the newer Ford F-series models coming to market.
Idea 13: And Now for Something Unexpected
Ok, so this one is a little bit left field, and is actually a sports bar somewhere in the United States which has used truck beds as a seating idea. I can imagine sipping a cold beer, watching the football, and enjoying the neon glow of this lighting idea.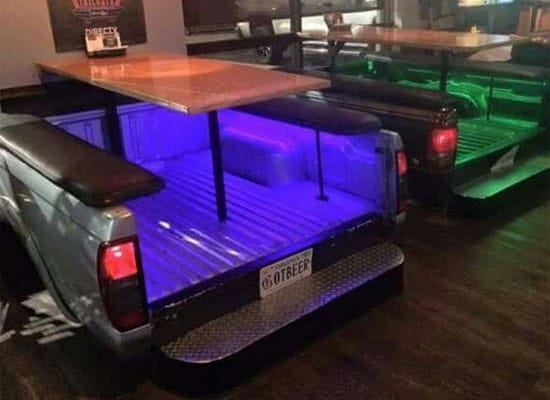 I simply had to include this idea to finish up with, just because it's so random. I want this at my local sports bar so if Carlos the bar manager is reading, get onto this now!
Final Thoughts
I hope that you have found some of these truck bed lighting ideas inspirational.
Fitting LED lights like the ones shown above isn't the easiest of DIY jobs, but if you have a little wiring knowledge you should be good to go.
Most of the ideas shown here can be purchased online, and I don't believe that any of them retail for more than $60 US dollars so it's a cheap way to add either functional or decorate lighting to the rear space of your truck.
Handy Hint: To see which ones I recommend have a look at the truck bed lighting guide for prices.