Have ever felt the frustration of planning a trip to a new destination, only to realize that your in-built GPS maps are out of date? It's happened to me in my own Nissan, so can never forget that time day I got stuck in Miami with no idea where I was going.
I swore it would never happen again, so I did some research to see if you can update an Nissan navigation system for free. I don't advocate piracy or copyright theft, so wasn't looking for a hack, but was instead looking for a free promotion on the DVD that would work with Nissan models like Murano, Rogues, and Pathfinders.
After all, not having to spend money on map updates is a good thing, right?
What I discovered was that, yes, there are free Nissan navigation downloads you can find online where you can get a hacked version of the map disc and then make a copy of it, but… I wasn't able to find anyone online who had actually got it to work successfully.
But what I did find was find an official map supplier: Click for Nissan navigation system updates.
Can you get Nissan navigation updates for free / download?
So, here's where it gets interesting.
There are loads of forums where users are searching for hacked and torrent versions where they can get a free copy of the disk without having to pay any money.
If you do download a free map update disk copy you will then need to burn it to DVD. You will need a DVD re-writer.
Once you do that, you then need to get a Nissan navigation code.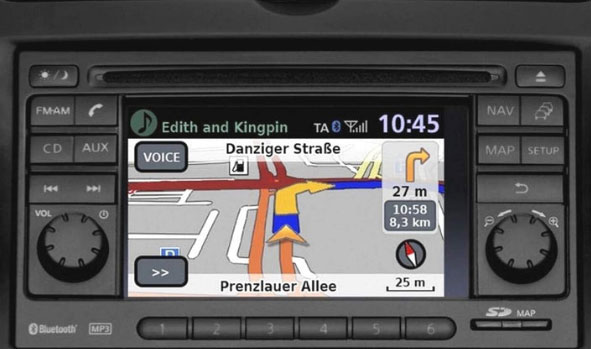 This is where the whole process falls over, as the codes are only to be used once, and are like a serial number that is specific to the original owner of the Nissan navigation DVD.
That means, even if you do end up downloading a free copy of the disk, you then need to get a unique serial number or registration code – call it what you will.
And here's the thing.
Nobody is going to give you their one, are they?
So, you end up in a situation where you've spent an hour finding a download or torrent website. Then must wait for the installation files to download (they are HUGE!), then have to get a DVD, write the software to the disk… and then… need to get a unique serial number.
You will never find one!
The risks of a Nissan navigation update download
And let's just say that you to decide to insert your copied pirate version of the Nissan navigation update into your Juke or Leaf, you are then entering into a whole new world of pain.
I've read reports online where people had done this and ended up breaking their navigation system due to bugs that had been placed into the downloadable software by the torrent websites.
It meant that the warranty on their Nissan navigation system was completely invalidated, and they could no longer use it!
And that's just the tip of the iceberg.
I also read that a lot of the torrent website which let you get a free Nissan navigation update download place Trojan Horse files into the download.
By that I mean viruses.
So, not only had they wasted a whole load of time and energy, they'd also potentially ruined their GPS system, and now had viruses loaded onto their computer!
Buy official maps and don't take the risk
To conclude, I ended up buying an entirely new Nissan navigation update DVD directly from the HERE website.
I didn't end up finding out how to update a Nissan navigation system for free, but what I did find out was that it is a complete waste of time trying.
You won't be able to get it work.
You could screw up your computer.
You could even damage and invalidate your GPS system.
However, I do have some VERY GOOD NEWS.
When I updated, I managed to get a really good deal from the online retailer. It wasn't free completely but was massively reduced compared to what they normally charge, meaning I get a very low price.
To see the low-price deal I got, click this link.
Conclusion
To conclude on this matter; the discs cannot be shared, and if you try it you could damage your GPS and void your Nissan warranty. When you buy the new Murano or Micra navigation updates, you have to submit your VIN (vehicle identification number), Device ID, and database version online.
You are then given a unique passcode to enter into your system to start the map update process. This then takes around 30 minutes to install. You can't do this with a free download copy obviously.